The ?Russian Lips? or ?Russian Lips Filler? refer to the face of Russian dolls (matryoshka) whose very red lips, luscious and with a particular shape, would have inspired the technique of Russian Lips.
Do you dream of luscious and sophisticated lips?
It is possible to redesign your lips with Russian Lips. Their contours will then be particularly well defined, associated with a better projection.
Result: luscious and sophisticated lips.
The aesthetic technique of Russian Lips
This is a special technique for injecting hyaluronic acid into the lips.
The objective is to lightly shape the lips in the shape of a heart, a bit like for the Russian dolls mentioned above.
To do this, Dr. Christophe Desouches, specialist in lip beauty and facial hyaluronic acid injections, accentuates Cupid's bow while maintaining and respecting the natural shape of the lips.
The desired result must be natural and discreet. The resulting impact and sensuality will be particularly appreciated.
Procedure of treatment with hyaluronic acid injections
To obtain the Russian Lips effect, your cosmetic surgeon injects additional fillers (hyaluronic acid) in the center of the lips. The desired goal is to lift the lips rather than just increase the volume.
Hyaluronic acid is a substance naturally present in the dermis and epidermis of the skin, which keeps the dermis hydrated and gives the skin a youthful glow. Most patients tolerate the injections well, which are painless thanks to the use of local anesthetics.
The results generally last from 8 months to 18 months.
Example of result before after injection of hyaluronic acid with the treatment ?Russian Lips?
The lips of these patients were redefined using the Russian Lips technique. The definition of the Cupid's bow has been improved in addition to the increase in the volume of the lips.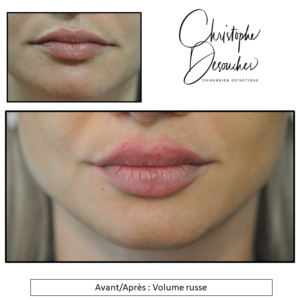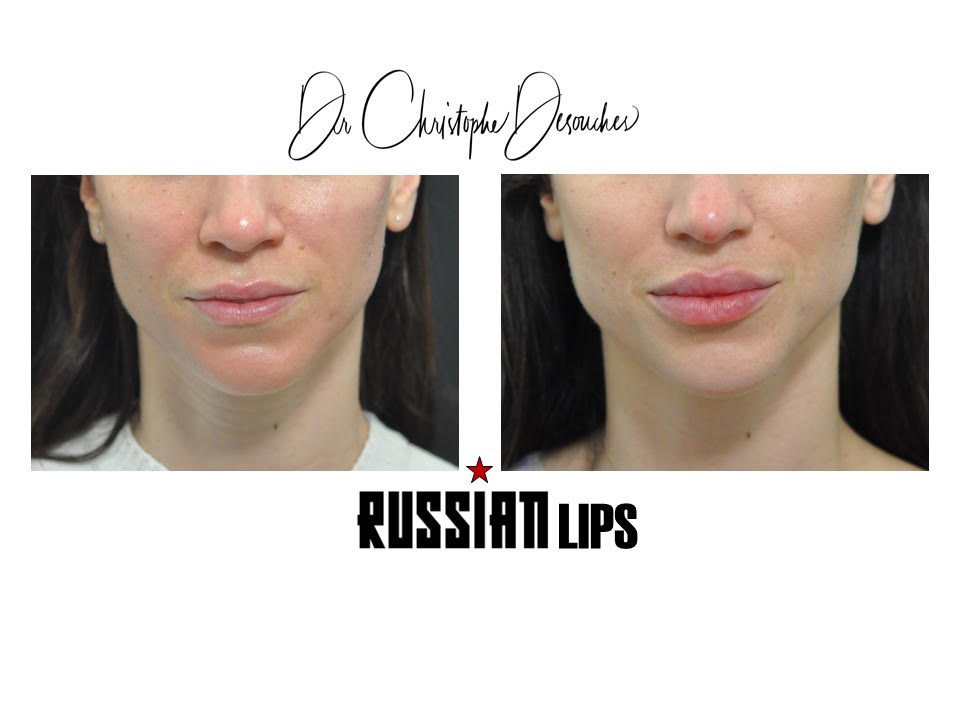 Discover the before and after photos of lip augmentation and cosmetic facial surgery.