The female genitalia are protected by two skin folds called the labia majora and two mucous folds called the labia minora. Generally, the labia minora are concealed by the labia majora. Some women have a hypertrophy labia minora. This can cause discomfort during sexual intercourse or when wearing tight pants. The appearance is often considered unsightly by people with this anomaly. The purpose of this intervention by your Aesthetic Surgeon in Marseille is to restore a harmonious appearance of the genitals with the labia minora flush with the labia majora.
The intervention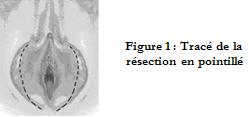 The operation consists of resecting excess mucous from the labia minora beyond the labia majora (Figure 1). Sutures are made at the free edge with absorbable stitches. The anesthesia used is generally local associated with intravenous sedation. The procedure is usually performed on an outpatient basis, with same-day discharge.
The initial consultation
The initial consultation is an opportunity to examine the hypertrophy, discuss the discomfort caused and explain the expected results. It makes it possible to search for the antecedents which may require rules of caution like genital herpes.
Complications
Even minor surgery carries risks. These complications are extremely rare and usually minor in this case. The risk of reaction to anesthesia cannot be ruled out. The complication sometimes found is infection or hematoma.
The nymphoplasty leads to scars. The evolution of these scars is unpredictable and can be exceptionally unfavorable with the occurrence of hypertrophic or retractile scars. These scarring complications can cause discomfort and require further surgery.
Before surgery
It is imperative to stop smoking at least one month before surgery, tobacco being a factor in delayed healing. Taking aspirin is prohibited 10 days before the intervention. It is necessary to wash with a gynecological antiseptic soap before surgery.
On the day of the operation, allow enough time to arrive at the scheduled time, without excessive stress. It is important to provide someone who can accompany you home after hospitalization.
Post-operative follow-up
The postoperative course is generally painless. Edema may appear and generally takes between 3 and 5 days to subside. Sexual abstinence is imperative for 3 weeks. The result stabilizes around the 4th month. It is on this date that the final result can be assessed.
Important information
This text provides basic information on the principles and procedure of labia minora reduction surgery. A good understanding of the procedure and the expected result is essential before considering this intervention by your Aesthetic Surgeon in Marseille. It must be emphasized that the goal of this surgery is to bring about an improvement and not to obtain perfection. If your wishes are realistic, the result will satisfy you.