Miradry permanently reduces perspiration and associated odors from certain areas of the body, in particular the armpits.
Permanent reduction of sweating
To put an end to sweating, Miradry uses thermal energy based on ultra short waves focused on the sweat glands, under the dermis of the areas to be treated.
The affected areas are mainly found in the armpits. These make up only a small portion of the body's sweat glands, which does not affect the body's ability to shed sweat and manage thermogenesis.
Indications for Miradry treatment
Excessive sweating
Sportsmen
People inconvenienced by the hazards and odors of perspiration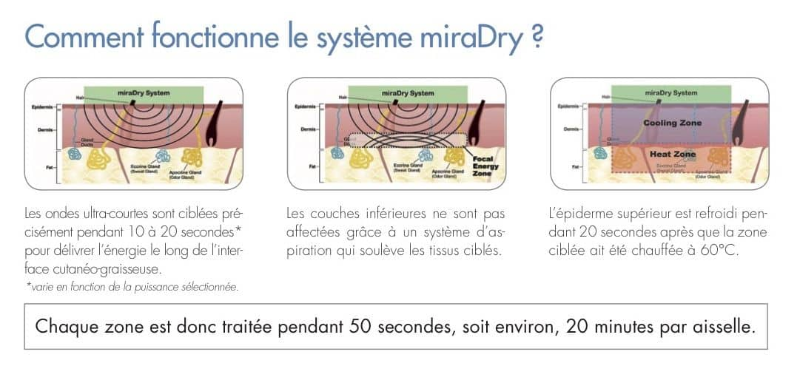 Progress of a session
Miradry is a gentle and non-invasive technique, which is performed after local anesthesia.
Dr Christophe Desouches uses layers placed under the armpits, which will help him target the areas to be treated with the Miradry device.
The sweat glands are then destroyed by the heat of the microwaves.
A session lasts about an hour.
Generally a single session is sufficient, sometimes a second is necessary in case of particularly profuse sweating.
Results
There is an immediate reduction in underarm sweating of 80% with just one session. There is no impact on the production of sweat from other parts of the body.