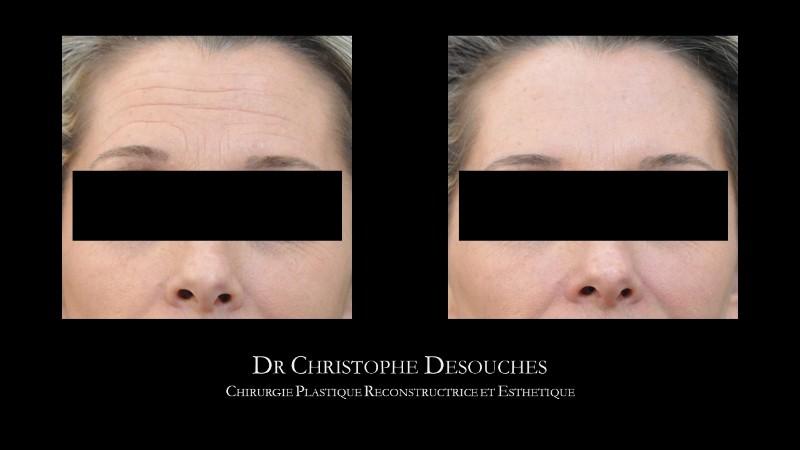 Botox to look years younger without surgery
the Botox (or botulinum toxin) is a substance that reduces contraction through targeted paralysis of the muscles responsible for creating wrinkles. The decrease in the tone of certain facial muscles then makes it possible to reduce expression lines, rejuvenate the look and reduce the sagging of the lower face and neck.
Botox has been authorized in France since 1990 to treat certain diseases related to muscle contracture in ophthalmology and neurology. Its use in the treatment of wrinkles is old, but it was legalized in 2003.
What areas of the face to treat with Botox?
Thanks to targeted injections of botulinum toxin, it is possible to significantly reduce wrinkles in the following areas:
Horizontal front pleats.
Lines between the eyebrows and above the bridge of the nose.
Crow's feet or wrinkles at the corners of the eyes.
Sometimes around the mouth
Ouvrir et rajeunir le regard avec le Botox
Les années qui passent se remarquent toujours au niveau du regard, par les rides et divers changements que l?on note au contour de l??il.
Les coupables sont bien connus. Au niveau des sourcils se trouvent des muscles élévateurs (comme le muscle frontal), responsables des rides au niveau du front, et des muscles abaisseurs (muscle orbiculaire par exemple) impliqués dans la patte d?oie.
Pour corriger ces effets, et pour retrouver un regard harmonieux et rajeuni, le Dr Desouches utilise les injections de Botox avec une répartition précise au niveau des muscles impliqués dans le regard, notamment au niveau du muscle orbiculaire.
Principle of Botox injections for the face
Injections are performed with a very fine needle for small amounts of Botox into the muscles of the areas to be treated. Generally the treatment of an area requires 3 to 5 injections in the various muscles concerned. They are practically painless. A numbing cream and a cold compress are applied before the Botox treatment to minimize the "pinching" sensation.
The results are visible after a few days. During the first fifteen days, the effects on the face can be variable (even asymmetrical at certain times) then stabilize at the 3rd week.
We are considering a possible touch-up at 4 weeks. The effects last about 5 to 6 months. With repeated injections, the results tend to persist longer.
Before Botox injections
One week before the injection, it is recommended not to take medication that alters the fluidity of the blood (aspirin, anti-inflammatories?) in order to reduce the risk of bruising.
After the injections
Avoid sleeping or lying down for a few hours after an injection.
Avoid aspirin and anti-inflammatories.
Avoid UV rays and alcohol intake for 24 hours.
Avoid touching your face or massaging the injection sites for 2 to 3 days.
Avoid any engaged physical activity for 2 to 3 days.

Visible results after a few days, stabilized after 3 weeks.

Possible touch-up after 4 weeks.

Duration of effects approximately 5 to 6 months.
Contraindications
Certain neuromuscular diseases such as myasthenia gravis or multiple sclerosis.
Pregnancy and breastfeeding.
Known hypersensitivity to botulinum neurotoxin or albumin.
Treatment with aminoglycosides (antibiotics).
Side effects of Botox injections
Redness or hematoma at injection sites.
Sensitivity disorders with sensation of muscle tension or fixity.
Imperfections of correctable results during retouching after one month: persistence of fine lines, asymmetry, raising of an eyebrow, facial expression disorders.
Complications of Botox
They are rare and transient, but can be bothersome:
Headache.
Descent of the eyebrow or eyelid.
Eye dryness.
Mimicry disorders.
Exceptionally: allergy, nausea, dizziness, fatigue, flu syndrome, dry skin or mouth.
Price of Botox injections in Marseille
The price of Botox injections for a facial treatment is between 180? and 350? depending on the products used and the number of injections.
Botox price, one bottle: 350?
Most of the cost results from the price of Botulinum Toxin, as only high quality products are used to ensure patient safety.
No coverage by health insurance is possible because these are acts for aesthetic purposes.