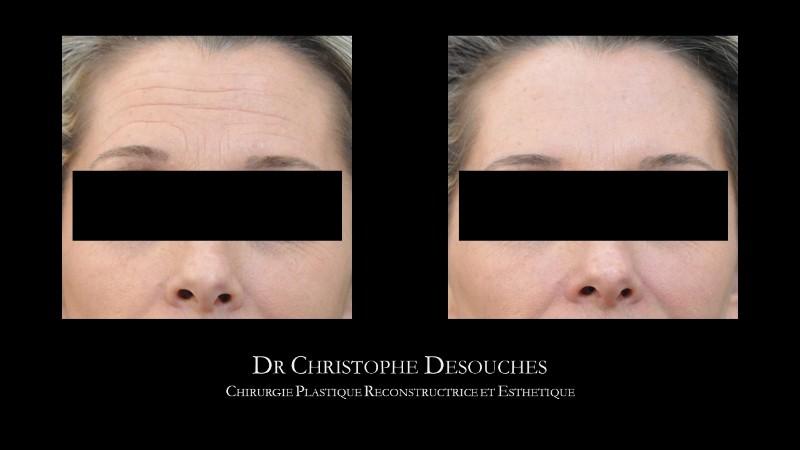 The botulinum toxin is a substance that reduces the contraction of muscles. The reduction in the tone of certain facial muscles helps reduce expression lines, rejuvenate the look and reduce sagging of the lower face and neck.
The toxin has been authorized in France since 1990 to treat certain diseases linked to muscle contracture in ophthalmology and neurology. Its use in wrinkle treatment is old, but it was legalized in 2003.
Principle of Botulinum Toxin injections
One week before the injection, it is recommended not to take drugs that modify blood flow (aspirin, anti-inflammatory drugs, etc.) in order to reduce the risk of hematomas. After the injection, it is recommended not to do intensive sports and not to massage the injected areas for 24 hours.
The results are visible after a few days. During the first fifteen days, the effects on the face can be variable (even asymmetrical at certain times) then stabilize in the 3rd week.
We are considering a possible touch-up at 4 weeks. The effects last about 5 to 6 months. With repeated injections, the results tend to linger longer.
Contraindications for Botulinum Toxin injections
Certain neuromuscular diseases such as myasthenia gravis or multiple sclerosis.
Pregnancy and breastfeeding.
Known hypersensitivity to botulinum neurotoxin or albumin.
Treatment with aminoglycosides (antibiotics).
Adverse effects
Redness or bruising at the injection sites.
Sensitivity disorders with a feeling of muscle tension or fixity.
Imperfections of correctable results during retouching at one month: persistence of fine lines, asymmetry, elevation of an eyebrow, mimicry disorders.
Complications
They are rare and transient, but can be troublesome:
Headache.
Descent of the eyebrow or eyelid.
Eye dryness.
Mimicry disorders.
Exceptionally: allergy, nausea, dizziness, fatigue, flu syndrome, dry skin or mouth.