Cosmetic facial surgery in Marseille
The face is our most visible part of the body. Disgrace or signs of aging are therefore particularly exposed (poorly proportioned nose, wrinkles and distended skin, drooping eyelids or bags under the eyes, etc.).
What are the solutions to beautify and rejuvenate this face that represents us?
Whether with plastic surgery or with aesthetic medicine, Dr Desouches, cosmetic surgeon in Marseille, advises you in a personalized approach to best combine the actions that will allow you to have the face you want.
Interventions for your face
Wrinkle treatment
In addition to a suitable lifestyle, a range of effective means to improve the appearance of your wrinkles is at your disposal.
>>> More details on wrinkle treatment
Forehead lift
Wrinkles and sagging forehead impact the overall aesthetics of the face and the look. The brow lift allows these aspects to be corrected to regain harmony and a more youthful look.
>>> More details on the forehead lift
The look and the eyes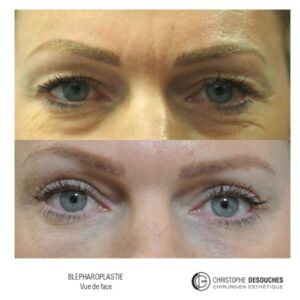 The eyelids like the eye contour are fragile areas sensitive to age, alcohol, the sun ... The look changes with the sagging of the eyelids or the appearance of dark circles.
Eyelid surgery and dark circles (blepharoplasty) corrects these defects to regain a clearer and younger look.
>>> More details on eye surgery
Aesthetic management of the nose
The nose is one of the most visible elements of the face. "Rhinoplasty" is cosmetic surgery of the nose, which makes it possible to obtain a harmonious nose, thus bringing more balance to the face. Medical rhinoplasty allows very spectacular results to be obtained with a simple injection of filler.
>>> More details on the aesthetic care of the nose
Lip beautification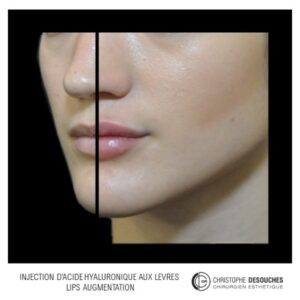 Symbols of seduction and attraction, lips lose volume and depth with age. The sun and cigarettes can accelerate the signs of aging. Several aesthetic approaches improve their design and harmony.
>>> More details on the lip intervention
Redraw the cheekbones
The cheekbones contribute to the overall harmony of our face. By reshaping the contours and volumes of the cheekbones it is possible to improve the balance at all.
>>> More details on the treatment of cheekbones
The oval and the neck
The medicine and cosmetic surgery offered by Dr Desouches reshape the oval of the face and neck. You then find a younger and more dynamic air.
>>> More details on procedures for the oval of the face and the neck
Frequently asked questions about hyaluronic acid
You want to use hyaluronic acid injections and you hesitate, you ask yourself questions. Here are Dr. Christophe Desouches' answers to the most frequently asked questions about Hyaluronic Acid.
Contact us to beautify your face
By choosing to entrust your face to Dr Christophe Desouches and his team, you are talking to experienced professionals who will accompany you at every stage of your process.