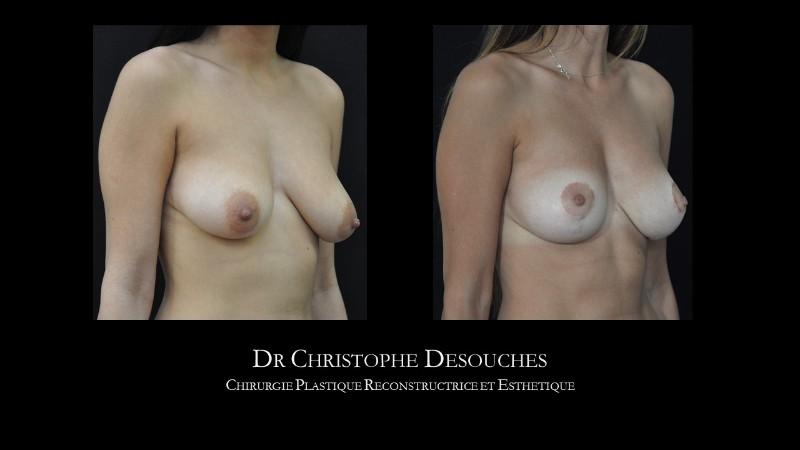 The facelift (also known as mastopexy or breast ptosis treatment) associated with lipofilling can both correct drooping or uneven breasts, enlarged areolas, and restore them to the shape of their youth, a fuller curve with larger chest volume.
The increase in breast volume by lipofilling consists of injecting your own adipose tissue into the breast to correct a volume deemed insufficient in addition to the mastopexy.
The intervention can be proposed when the breasts are droopy and have not developed sufficiently or when the breast volume has decreased following weight loss or pregnancy.
Breast lift surgery with lipofilling is increasingly performed and brings excellent results. Trust your Aesthetic Surgeon in Marseille.
When can you consider a breast lift with lipofilling?
If pregnancy, breastfeeding, weight loss, or simple gravity has changed the shape of your breasts, causing them to sag associated with a noticeable decrease in volume
If breast lipofilling is not likely to lift the breast sufficiently, or your breast volume is too low to consider an isolated lift.
What are the advantages of a breast lift with lipofilling?
You will have a natural breast shape, better symmetry and a fuller cleavage
Your breasts will look younger
The disadvantages of breast lift with lipofilling
The effects of a breast lift can slowly wear off over time due to gravity and aging of the skin.
A breast lift leaves scars that are often not very visible and will be hidden by a bra or swimsuit.
A subsequent pregnancy can penalize the initial result.
The result of the lipofilling is final at the 6th month but it can vary according to your weight level.
These advantages and disadvantages should be taken into account if you are considering this type of surgery. If you want to know the best possible solution in your case, a consultation with Dr. Christophe Desouches, plastic surgeon in Marseille is necessary for an accurate assessment.
How is a mastopexy with lipofilling performed?
a breast lift is performed under general anesthesia or intravenous sedation in an accredited clinic for cosmetic surgery. Different techniques exist to remove excess skin and to reshape the mammary gland. These techniques determine the location of incisions and scars. the Dr Christophe Desouches choose a technique based on your breast size and shape, areola size and position, degree of breast sagging and skin quality.
For lipofilling, the purpose of the procedure is to inject fat into the breast after removing it from where it is in excess. The fatty tissue is removed by liposuction in a gentle and atraumatic way. After purification, the cellular part of the fat removed is reinjected as a topping using small cannulas through punctiform skin incisions.
Excess breast skin is removed and the nipple and areola are positioned at a correct position
If your areola was too large, it is possible to reduce its size
The scars are usually hidden under the breasts, and slightly visible above and around the areola
The nipples and areolas remain connected to the mammary gland, which helps preserve sensitivity and the ability to breastfeed
In some patients, it may be possible to avoid the horizontal incision under the breast, as well as the vertical incision that goes from the lower edge of the areola to the crease of the breast.
What are the consequences of breast lift surgery with lipofilling?
Dr. Christophe Desouches will study with you the time required before you can return to your normal level of physical and occupational activity. After surgery, you will receive detailed instructions on your post-operative care, including safe information:
Drains
Normal symptoms
Signs of possible complications
Immediately after your facelift
In general, you can expect to have dressings, wear compression garments, and sometimes you can have surgical drains.
When the anesthesia wears off, you may feel some pain. If the pain is painful or long lasting, you will receive painkillers through the vein. You will also notice redness and swelling after the surgery.
Normal surgical outcomes include bruising, change in nipple sensitivity, and itching around the incision sites. These side effects should disappear within the first few weeks, with some residual effects lasting up to three months after surgery.
You will wear a medical compression bra for about a month.
What is the recovery time after breast lift surgery?
After significant liposuction, a marked feeling of fatigue can be felt over a period of 10 to 15 days. The resumption of a professional activity is possible after one week and of a sports activity after 4 weeks.
There is a slow resorption of fat which stabilizes around the 6th month. It is on this date that the final result can be assessed. A 2nd breast lipofilling session can then be considered in order to optimize the result (in shape or volume). The costs incurred are identical to the first session.
The fatty tissue graft is definitive and the grafted volume follows the variations in volume linked to changes in weight. In case of weight loss, the volume of the breasts will decrease and in case of weight gain, the volume will increase.
The final result of liposuction is also appreciated from the 6th month.
A control consultation will be needed at 3 months, 6 months and one year. A radiological assessment identical to the initial assessment will be carried out at 1 year.
It is extremely important that you follow all care instructions provided by Dr. Christophe Desouches. This will include information on wearing compression garments, necessary dressings and the level and type of activity that is safe. He will also provide you with detailed instructions on the normal symptoms you will experience and potential signs of complications. It is important to realize that the time needed for recovery varies greatly between individuals.
What are the limits and risks of a breast lift with lipofilling?
Complications of breast lift with prostheses are rare. Your specific risks will be assessed during your consultation.
All surgical procedures carry some degree of risk. Some of the potential complications of all surgeries are:
Adverse reaction to anesthesia
Hematoma or seroma (accumulation of blood or fluid under the skin)
Infection and bleeding
Sensitivity variations
Hypertrophic or hyperpigmented scars
allergic reactions
Unsatisfactory results that may require additional interventions
Blood clots in the legs or lungs (phlebitis or pulmonary embolism)
You can help minimize certain risks by following the tips and instructions from Dr. Christophe Desouches, both before and after your surgery.